Verlustlisten Österreich-Ungarn 1. WK, page 083_26: Riba Anton (Mannschaft)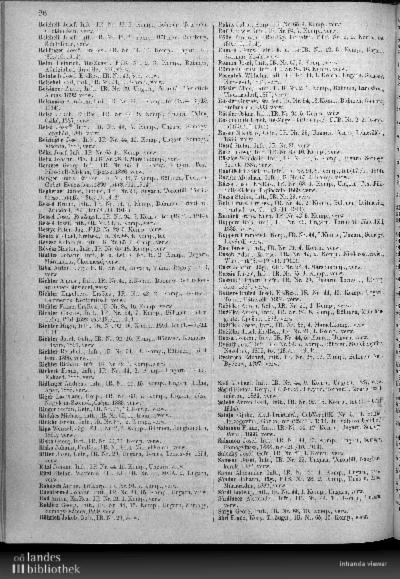 Page Number
083_26
-
Ausgabe
083
Datum
1914-12-21
Last name
Riba
First name
Anton
Offizier/Mannschaft
Mannschaft
Charge
Jäg.
Truppenkörper
FJB. Nr. 24
Unterabteilung
Land
Ungarn
Bezirk
Tolna
Heimatort
Regöly
Geburtsjahr
1893
Status
verw.
Ereignisdatum
Ort des Ereignisses
Region des Ereignisses
Land des Ereignisses
Hinweis zur Suche: Da die Daten urkundengetreu erfasst werden, gibt es oft auch unterschiedliche Schreibweisen!
Dies lässt sich mit dem Platzhalter ? z.B. so lösen: Her?ego?ina steht für Herzegowina, Hercegovina usw.
Ein wichtiger Hinweis zu den eingetragenen Heimatorten:
Durch Eingemeindungen oder Ortsnamensänderungen sind Orte vielleicht nicht mehr auffindbar, wenn sie nach heutigen Gemeindestrukturen gesucht werden.
Hier lohnt sich ein Blick in unser Geschichtliches Ortsverzeichnis GOV.

Ein Gemeinschaftsprojekt von:

Familia Austria

, der Landesbibliothek Oberösterreich
,
des AKdFF
, des AKuFF

, dem Kroatischen Staatsarchiv
, VSFF e.V.
,
dem Vojenský Historický Ústav Praha
und CompGen.
note
Please note that the DES is a data entry system. The data shown here is just a working state. Therefore the current URL should not be used for references. After the transcription has been finished the data will be exported to a system that allows permanent referencing of the information.
You have spotted a typo in the transcription? Report it here. It is only a transcription error, if for the example the source reads "Wilhelm" but "Wihlem" was transcribed. It is not a transcription error is for example the source reads "W." and you suspect that is has to be "Wilhelm".
Report a transcription mistake for this entry.